SPACE RACE
World's First Family Bowl Racing Slide!
TNTY introduces a unique, new class-a signature ride: The Space Race® waterslide!
The ride's geometry is similar to other bowl-type slides, such as TNTY GROUP's own Space Boat - a tube ride that launches from a tower shoots riders down a chute and into a bowl where they gain ever-increasing velocity as centrifugal force sends them shooting around and around before they plummet through the bottom. The Space Race® introduces a wholly new opportunity for fun by giving groups of riders a chance to compete as they urge their teammates to be the fastest in crossing the finish line.
Space Race® is a distinctive ride that offers a unique entry tower. Riders begin building their adrenaline rush even before they step into their rafts due to the tower's design. It allows all riders to see other teams competing against one another as they wait their turn to enter the race.
PRODUCT FEATURES
• Maximum capacity (120 x 8 riders per hour)
• Optional "Natural Light Effects" (which allows the sun's rays to stream into the tube via translucent stripes and/or other designs to create a different ex perience on every ride), "Natural Sound Effects" and "Special Pattern Effects" (which allow a varie
• Unique tower centered between the two raft entry points
• A "shared" slide experience with others in the queue
• A distinctive, attention-grabbing appearance with the attraction's massive size ( iconic design)
• Exclusive options when combined with other slides via specialty design considerations offered in consultation with TNTY's design team professionals
• Translucent applications
• A 13/20 percent slope
• Resin-transfer molding (RTM) technology to create perfectly smooth, shiny slide components inside and outside with perfect component alignment.
• Space requirements of 20 meters high and 66 meters by 52 meters wide (65 feet high and 216 feet by 170 feet wide)
• Bowl size of 5 meters (16 feet) high by 26 meters (85 feet) in diameter and an angle of 15 degrees.
• Theming Possibilities
TECHNICAL SPECIFICATIONS
Depth : 27 mt (88 ft)
Width : 27 mt (88 ft)
Height : 7 mt (23 ft)
Slope : 13/20%
Capacity : 180x4x2
Riders/h Exit : Pool or Run-Out
Flow rate (Start) : 800 m3/h (3522 USGPM)
Flow rate (Bowl) : 400 m3/h (1761 USGPM)
Space Race: World's first family bowl racing slide. High capacity, unique tower centered between the two raft entry points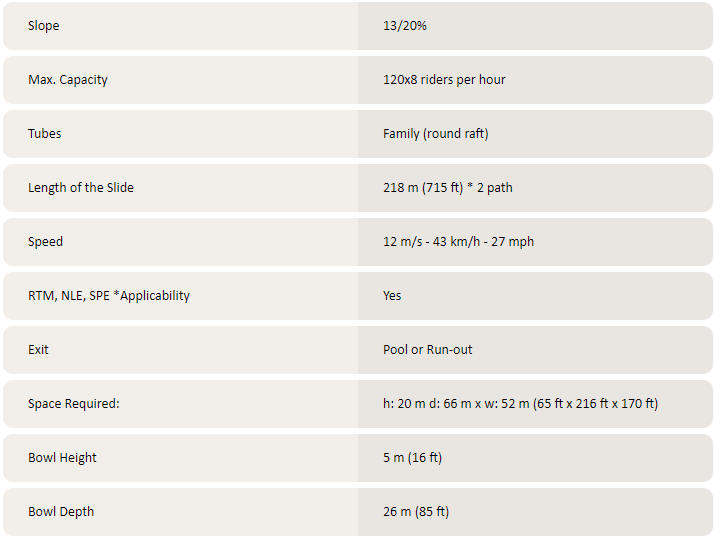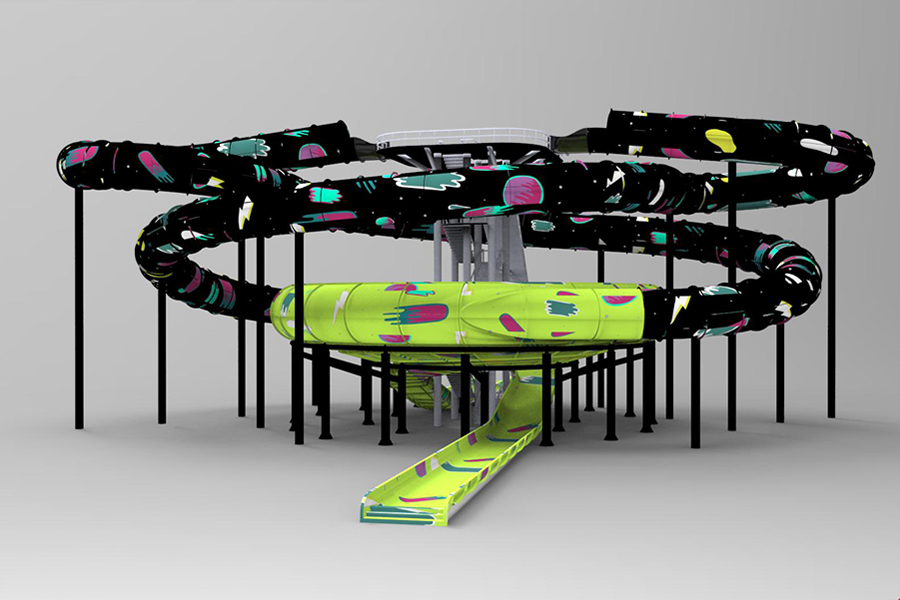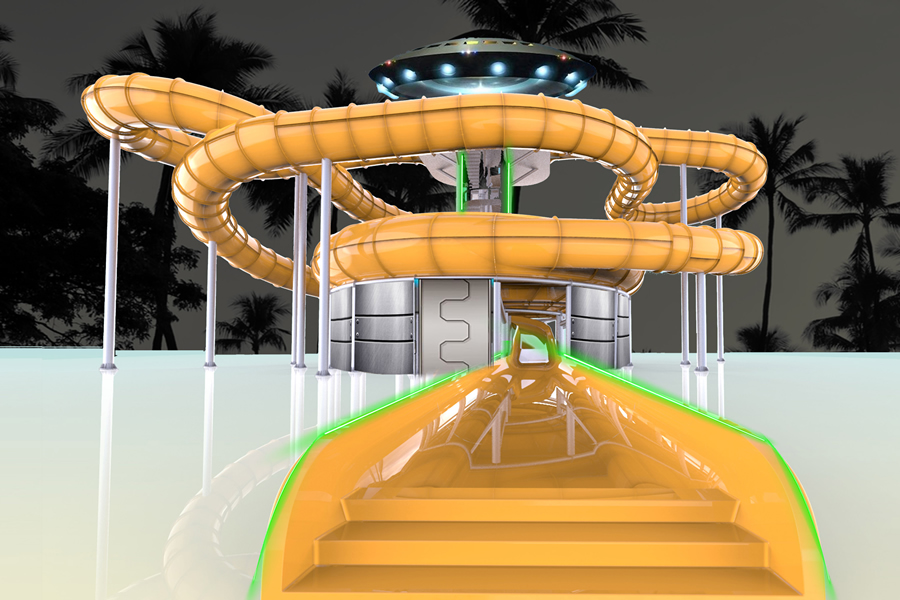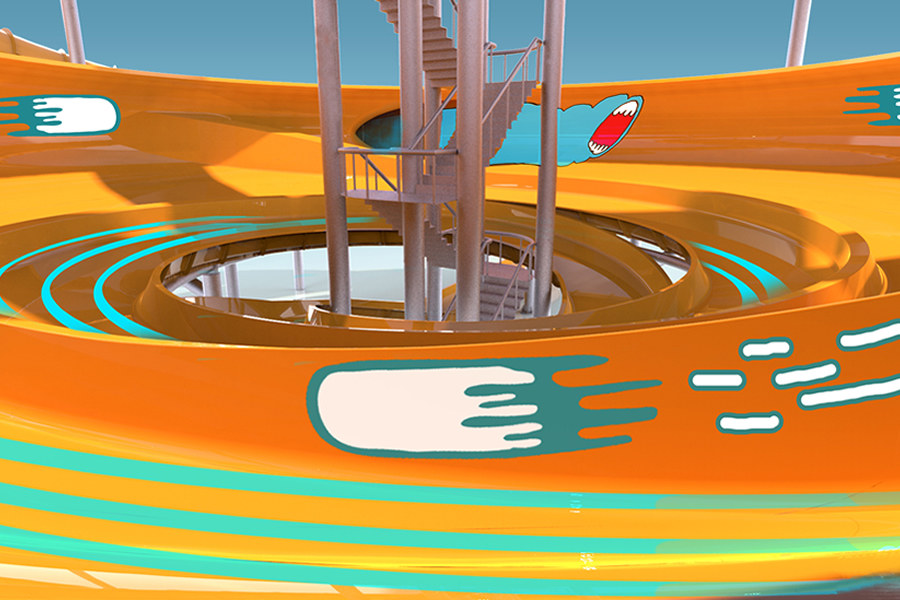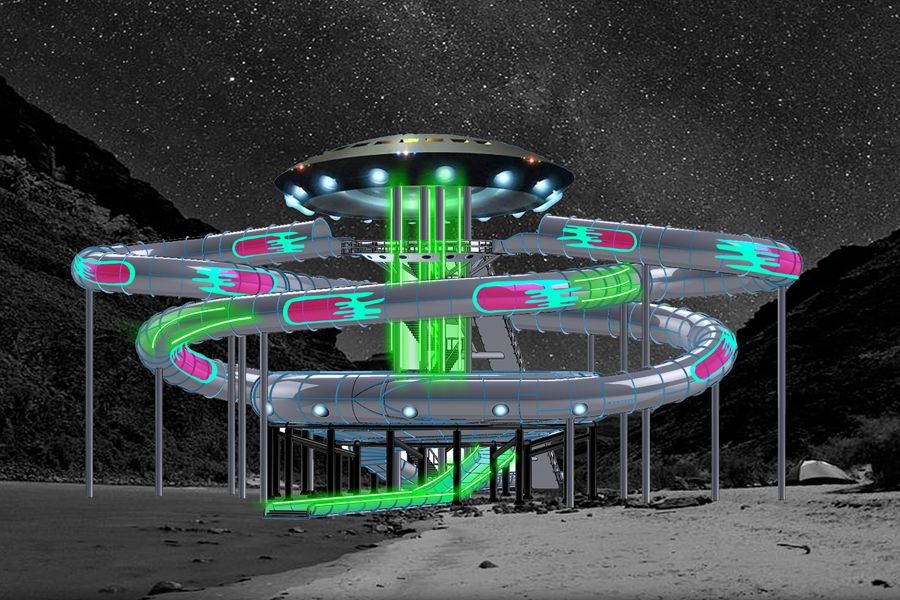 Space Race Custom Design - B